"Happiness is not something ready made. It comes from our own actions." – Dalai Lama.
I don't know if it's just me, but there seems to be so many misconceptions these days about the term 'self-care' and why/when we should utilise it. I love health and well-being related posts, but found myself continuously seeing posts about self care which revolved around peacefulness and meditation, bubble baths, spa days and massage…
Whilst I do love all of these things, it had me thinking a bit more about what self-care means to different people. I am fortunate to be studying a profession which focuses a lot on self-care, motivation and what gets us going throughout the day! But self-care doesn't always mean relaxation, whilst I believe it is important to take some time out and recharge, I think this is only one idea under the umbrella of self-care.
To truly nourish ourselves, I think that we need to get to the roots of what we love, some of us might not even have found it yet. I am always finding new things to research and try out, I am a curious kitten who is never finished wondering what else there is to do. This might just be my personality but it keeps me ticking nonetheless! My partner nourishes himself by playing football once a week regardless of the weather- but being in a cold field in the rain getting muddy is my idea of hell! I think what I am getting at, is that in order to care about yourself, you need some form of spiritual fulfilment, and that's where Occupational Therapy comes in.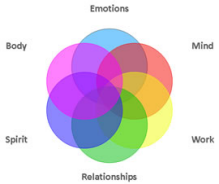 Occupational Therapy focuses on the meaningful activities we do each day to keep ourselves motivated and engaged in society. I'm not writing an essay here so you won't find me quoting theorists left, right and centre, but long story short, an occupational therapist will help you learn the skills you need in order to do what you love, want and need to achieve.
Self-care is a MASSIVE part of this. I have learned that spiritual fulfilment is one of the most important factors in our day to day lives and something we need to practice to experience real empowerment.
I think the biggest and most unhelpful misconception in self care practise it that it can only be done on a day off or a weekend; or any time you have free from doing things you 'need' to do. I think this needs to change, why not prioritise ourselves? I recently decided to take the reigns once again in my own self-care. If this means only 10 minutes a day, then so be it! Drinking more water and a 30 minute bedtime yoga sequence is where I am at just now; but I have already noticed a difference in my mood and sleeping patterns.
I would always find myself so focused on end goals I would burn out, and fatigue management is something I have struggled with in the past too! I have also read so much lately on how bad stress is for the body and it terrifies me! So my self care is going to become a priority, in fact, so far I am finding it actually facilitates everything else I do in my day.
It doesn't have to be a drastic change, it doesn't have to be the same as everyone else is doing and it DEFINITELY doesn't have to be a 'tip' from a Pinterest page (ha!)- just do something for you once a day. Take control of your daily routine and don't forget that you are a human being with real feelings and experiences- not just a machine built to work every day to cater for others!
I invite others to share their self-care holy grail, tips and influences in the comments below 🙂
NB: This post is opinion based and I don't recommend that you add anything too much to your schedule/routines if you are currently on any pain management or chronic fatigue programmes without discussing first with your programme leader!
AO X